Create a feeling unique to every room with high-quality interior painting in Mililani, Waipahu, Honolulu, and the Island of O'ahu, Hawaii.
Scroll to discover interior painting options, process, and prices
Enjoy Every Day In A House That Makes You Feel Proud
Do you ever move things around the house just to make it look a bit different? If that's a YES, then you know a touch of new always feels refreshing.
When you transform your interior with a new color, it'll help you to have a brighter outlook on your day. You'll feel accomplished and proud when you invite friends over.
You might even start to see that every day is a special experience designed just for you.
Give Every Room Its Own Mood And Feeling
The trends for interior painting come and go. But above all trends, the color of each room should match its purpose and your personal style.
For a timeless look, neutral colors work best. Go with pastels for a relaxing atmosphere or bold colors to set the energy high. 
No matter the mood you want to create, we can help you choose the right colors to bring that feeling into your every day.
Interior Painting Portfolio
We've refreshed the look and feel of over 600 interiors in Hawaii. Browse some of our work below.
Bernardo did an amazing job during our renovations! Extremely professional crew knew what they were doing regardless of the room or material they were painting onto.
Nearly a year later and the job still looks flawless. Bernardo was in communication with us the entire time, and came by when the job was done to review and take used paint thinner for recycling. Great company to work with!
Aloha all, I'd like to take a few minutes to say how pleased my husband and I are with Bernardo's Painting. Bernardo and his crew were very professional throughout the job.  They were friendly and just a good bunch of guys.
We had a tri-color and the work turned out awesome!! The paint job is thick, and looks professionally done. We highly recommend Bernardo's Painting for your painting needs!
Cutting corners on price and materials means cutting corners in workmanship and quality. From refreshing just one room to repainting the whole house, you'll only experience top quality materials and expertise.
Around 3-400 square foot condo. Pricing includes interior painting of ceiling, walls, doors, trim, and baseboards.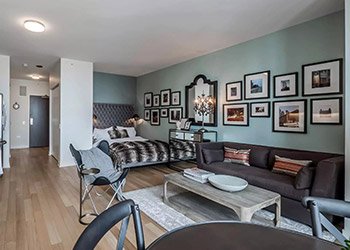 Average Interior Painting*
Around 1500 square foot home. Pricing includes interior painting of ceiling, walls, doors, trim, and baseboards.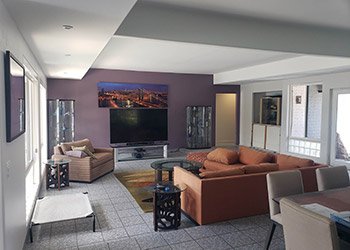 Around 2500-4500 square foot home. Pricing includes interior painting of ceiling, walls, doors, trim, and baseboards.
*This paint job is including an entire house paint. All prices are averages and may change depending on your choice of materials and square footage. You'll receive an exact quote for your unique project after the in-house consultation.
The Easiest Interior Painting Process
Hiring a company for any type of home project can be a stressful experience. Besides the difficulty in finding a team you can trust, there are always surprise bills that come up. At Bernardo's Painting, we're transparent with our process, which keeps you in charge at all times.
We'll have a call to discuss the feel you want your house to have and the colors you like. We'll give you an estimate over the phone and set up an in-home consultation.
From furniture and objects to doors and windows, we cover and protect your house before the first stroke of paint. After the prep work is done, we start painting!
Now that your fresh interior makes the whole house look new, you can love inviting people over again! Create new memories in a house that's truly yours.
Everything we do is to ensure we've completed a project you'll love.

I am pleased to say that this is a top-notch painting company. The prep work was very meticulous and worth the time. Lines were clean and no overspray found. He even patched up old, rotted areas nicely. Our old house looked brand new after his work.
I also used them for some interior painting and some carpentry work. Unfortunately, one of the windows got cracked but Bernardo went out of his way to fix it with even better glass than the original. He even got part of the flooring fixed up also.


I couldn't be more impressed with Bernardo's Painting! Bernardo came over to give a quote on an exterior paint job for my house. He was very thorough and honest in his evaluation of my house and the job that needed to be done.
Bernardo spoke with experience and gave me several options to choose from… I couldn't have been happier with the result 😉 I can't recommend Bernardo's Painting enough!!!


Bernardo's was super helpful with repainting the interior bedrooms of our family home.
They helped my parents move all the furniture around and worked with our schedule and living arrangements. They did a great job and now our house looks clean and fresh!

Welcome New Colors Into Your Life With Flawless Interior Painting