Help your house stand tall and proud in the neighborhood with high-quality exterior painting that lasts
UNMATCHED PAINTING SERVICES
Awarded Honolulu Magazine's "Best Residential Painting Company" of 2015, 2018 and 2022.
FEEL EXCITED WALKING UP TO YOUR HOME AGAIN
When you pull into your driveway at the end of the day, looking at your beautiful home makes your heart swell with joy and pride.
Recreate moments like these day by day, year after year, as your house stays damage-free. No peeling paint, no fading colors, and maintenance close to zero. Your house should look as good as it deserves, and always be there for you to fully enjoy it with friends and family.
HELP YOUR HOUSE LAST LONGER AND LOOK BETTER THAN ANY OTHER HOUSE ON YOUR STREET
Our number one goal is to ensure that your paint job lasts and your house is protected year round. All while looking like a true gem in your neighborhood.
When your neighbor's house looks like it's ready for its next paint job, even though you both painted it at the same time a few years back… you'll know you made the right choice.
GETTING EXTERIOR PAINTING THAT LASTS
Hiring a company for any type of home project can be a stressful experience. Besides the difficulty in finding a team you can trust, there are always surprise bills that come up. At Bernardo's Painting, we're transparent with our process, which keeps you in charge at all times.
We'll have a call to talk about how you want your house to look like. We'll also discuss if any repairs are needed. We'll provide an estimate over the phone and set up an in-home consultation.
First things first: power washing, masking, and covering all exterior areas that will not be painted (like sidewalks, windows, and trims). Only then do we start painting.
3. ENJOY YOUR HOME'S NEW LOOK
You can finally be proud of your house's exterior. You'll have more time to enjoy with friends and family with the peace of mind that it's going to be safe for years to come.
WE FIX THE ROOT PROBLEM TO AVOID FUTURE DAMAGE
Painting over damaged areas in hope no one notices will only make problems get worse. We repair and repaint your house's exterior without cutting corners.
From repairing any dry rot or termite-damaged areas to changing your siding and trim, our carpenters have the skills and solutions to make sure your house is strong as well as beautiful.
You don't have to go through the hassle of hiring three different teams to get a job well done.
Cutting corners on price and materials means cutting corners in workmanship and quality. We give you your time back by using the highest quality paint, so your house needs fewer repairs and lasts longer.
1000-1500 sq ft
single story home
Exterior repaint of a regular house in good condition that doesn't require any repairs.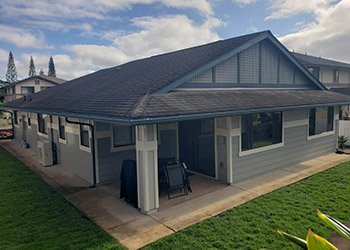 AVERAGE EXTERIOR PAINTING*
1500-2500 sq ft
two story home
Exterior repaint of a medium- to large-sized house, with extra repairs needed.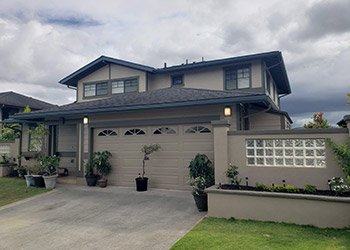 HIGH-END EXTERIOR PAINTING*
2500-4500 sq ft
single or two story home
Exterior repaint of an extra large house (around 8000 square foot), with extensive repairs needed.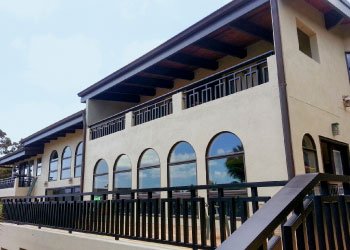 *all prices include mildew washing, pressure washing, prep, painting with high end paint for longevity with minor carpentry and repairs included (if needed).
We'll check in with you before your warranty expires to make sure everything is holding up as promised. If any repairs are needed, we'll do them at no additional cost. Our end goal is to make sure your house lasts and you can enjoy it worry-free.
INTERIOR PAINTING PORTFOLIO
We helped over 300 houses in Hawaii look phenomenal and withstand any weather conditions. Find inspiration for your own exterior painting in the gallery below.
Everything we do is to ensure we've completed a project you'll love.

Been wanting to paint my house ever since I bought it last year of November. Contacted several contractors. But when I contacted Bernardo his professionalism and friendliness made me decide to go with him.
[The team] is a bunch of friendly guys! Highly professional. They finished the job within the exact given date. Job was extremely satisfying. Looks brand new!
Love the Customer Service and quality work! AWESOME JOB GUYS!!!


I needed to have the exterior of my home painted because of the association…I didn't know who to call and I decided to give Bernardo a call and got a free estimate and decided to let his company do the job…and what an amazing job they did in only 3 days…
My hubby and I are so happy and pleased with the paint job on our home…I'd call him to paint the interior of my home in the near future, also I would recommend his company to others…mahalo Bernardo and crew, you guys rock!!


Bernardo's Painting is responsive, fairly priced, insured, and professional. Bernardo's attention to detail that others may ignore is what sets him apart. His warranty period speaks to the quality of paint and proper prep. His crew is respectful, hard-working and trustworthy.
We obtained 3 estimates from licensed painting contractors and while it was competitive, it was the prompt replies and detail that won them the job. Great work, Bernardo's!

PROTECT YOUR HOUSE TO ENJOY YOUR HOME YEAR AFTER YEAR