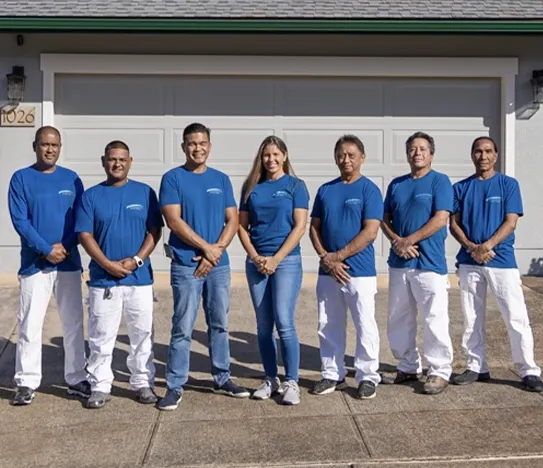 Welcome to Bernardo's Painting, Honolulu's awarded painting company. With a remarkable track record of over 1000 flawlessly completed painting projects, we take immense pride in our commitment to excellence.
We are currently seeking skilled craftsmen to join our dedicated team. If you have a passion for the art of painting and a keen eye for detail, we invite you to be part of our success story.
Submit your application below and we'll get back to you shortly to discuss your future plans and working with Bernardo's Painting.
As a Crew Lead at Bernardo's Painting, you will be responsible for consistently bringing about high-quality painting projects that exceed client expectations. With your exceptional leadership skills, you will effectively manage a team of painters, ensuring efficient project completion within the given timeline and budget. Your ability to coordinate resources, provide clear instructions, and maintain a strong attention to detail will be crucial in achieving flawless results. Moreover, you will play a vital role in delivering a 5-star experience to our valued clients and homeowners by fostering strong relationships and ensuring exceptional customer service throughout the project.
As a Sales Representative at Bernardo's Painting, you will be promoting our services, generating leads, and closing deals with prospective clients. Your should have skills in sales, negotiation, and a passion for customer satisfaction.
As an Office Administrator at Bernardo's Painting, you will be managing administrative tasks, coordinating schedules, and ensuring smooth operations. Your should have skills in organization, communication, and attention to detail.
As a Journeyman Painter at Bernardo's Painting, you will bring at least 5 years of hands-on painting experience to our team. Your expertise will be put to use as you skillfully execute painting projects with precision and attention to detail. Having your own reliable transportation and tools is essential to excel in this role. Your responsibilities will include preparing surfaces, applying paint, and ensuring a seamless finish. Your experience and knowledge in different painting techniques, surface preparation, and color matching will contribute to the overall success of each project.
As a Receptionist at Bernardo's Painting, you will be the first point of contact for clients, handling inquiries, and providing excellent customer service. Your should have skills in communication, multi-tasking, and a welcoming demeanor.
Tell Us More About Yourself
Everything we do is to ensure we've completed a project our customers will love.

Very happy with my services! Bernardo was able to fit me in earlier than anticipated because of the rainy season delaying some outdoor projects.
He and his crew were awesome!
Even though it is expensive, you are paying for the best job you can get and they move everything for you and put it back!
I didn't have anything to complain about!
The job was perfect and everything was clean when they left.
Will definitely use for future projects!


I recently moved in to a lovely house but had some not so great super dark walls. 
Who to come to the rescue but this amazing company.
 Knowledgeable about what colors would work best. Professional, punctual, polite, and impeccable service. Not only did they do a great job but one of the guys of this amazing team was lining the edges to the ceilings freehand. 
This job took three days and after each day the owner himself came to check with us to see how the work was done. 
There really isn't much more I can say on how much I love the way they turned my dark interior into a light airy home. Plus they were so nice to my 3 kids. I would 100% recommend them to paint your home. You will not be disappointed.


Bernardo painted the interior of our house two years ago, and did a wonderful job. 
He worked mostly by himself and he was so pleasant to be around. 
Still to this day, we are happy with his work. Yes, his price is not the lowest, but it's worth it! 
I would recommend Bernardo to any of my friends. He sometimes worked late into the night to get the job done.
Thank you Bernardo!