Create an upscale business look with commercial painting services fit for small and large businesses alike in Mililani, Waipahu, Honolulu, and more of Hawaii.
Scroll to discover commercial painting options, process, and prices
Update Your Business To A Fresh And Professional Look
Whether you own a warehouse, an office, or a commercial space in the heart of the city, the first impression you give your customers can make or break the deal.
Reassure everyone who sees your spaces that you're a professional. We help you paint your commercial spaces inside and outside, so that the message you're sending is the right one.
Enjoy An Efficient, Prompt, And Transparent Partner
Before your commercial painting project starts, you'll receive a comprehensive scope of work that includes all the details.
From what needs to be done, to the materials we'll use, to the exact timeline and cost of your project, it'll all be easily outlined for you.
The most important thing for us is to make sure your needs are met and that we're doing what's best for your company.
Our Commercial Painting Portfolio
Bernardo's company is the ultimate in professional service.  We have used them several times for various projects over the years, but the most recent project was extensive, and they came through again.
Bernardo's estimate process was very thorough – complete with photographs – and he was always available to answer questions.
His crew was outstanding!  They were always prompt, very courteous and respectful of our home, and did an absolutely impeccable job.  After they finished, they cleaned up completely, and all we had to do was sit back and enjoy.
Bernardo's Painting is the best, period. I have had many rentals and primary homes over the years but Bernardo's was an extra-special job.
There was not a flaw in the cutting of the paint as two walls came together with different colors. Our home has no baseboards so the wall color comes right to the tile ~ it looks like the tile was laid after the walls were painted!
You may pay a little more, but as my pappy told me many decades ago, you get what you pay for. I'd highly recommend Bernardo's Painting.
Commercial Painting Prices
All prices are averages and may change depending on the square footage of your space, and whether it's an interior painting job, an exterior job, or both. You'll receive an exact quote for your unique project after the on-site consultation.
Small Commercial Painting Projects*
Interior painting of a small office space.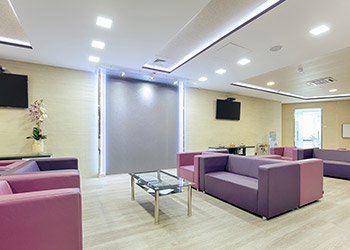 Average Commercial Painting Projects*
Interior or exterior painting of medium spaces or warehouses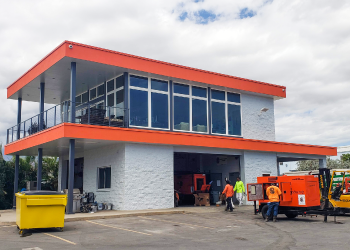 Large Commercial Painting Projects*
Larger commercial spaces with interior and exterior painting
We don't just send you a general estimate and call it a day. To make sure we deliver the best for your company, it's important for us to have an upfront detailed call that covers everything about your project.
Commercial Painting For Your Business
Trusting a team with the look of your commercial space is not a decision you make lightly. At Bernardo's Painting we're transparent with our process, which keeps you in charge at all times.
We'll have an in-depth call to talk about how we can help you upgrade your commercial space. We'll provide a basic phone estimate and set up an in-person consultation.
We cover and protect all the areas that will not be painted, both inside and outside your commercial space. Then we get to the fun part… the painting process.
With an upgraded look, you can start receiving higher-end clientele. Your business looks fresh and it fully reflects your professionalism.
Everything we do is to ensure we've completed a project you'll love.

I had a very personable and helpful bid by Bernardo Painting. Bernardo was very friendly, personable and extremely thorough in his inspection for a bid!
I hope more companies conduct themselves as this one does! Aloha and Mahalo Bernardo!


I am thoroughly pleased with Bernardo's service. Bernardo came to my house and gave an estimate within a couple days after I called. He managed to work my house into his nearly full schedule.
 His crew was professional and a real nice bunch of guys – I enjoyed having them around! The work was done in a timely manner and the house looks brand new!


We have a condo at Kai Lani in Ko Olina and found Bernardo through Yelp. The reviews were so good and his web site so professional that we thought we should interview him along with a few other painters. We were so impressed by Bernardo's knowledge and professionalism.
They did a wonderful job and Bernardo contacted us whenever there was a question. They started and finished on time and our place sparkles, now. Thank you Yelp and Bernardo!

Give Your Business An Upscale Look And Enjoy More Clients