These Are The Answers To The Top 9 Questions Our Neighbors In Honolulu Are Asking About Interior Painting
We did some digging and found out the most commonly searched questions for interior painting in Honolulu. Then, we answered them!
In this post, you can find the answers to the top interior painting questions.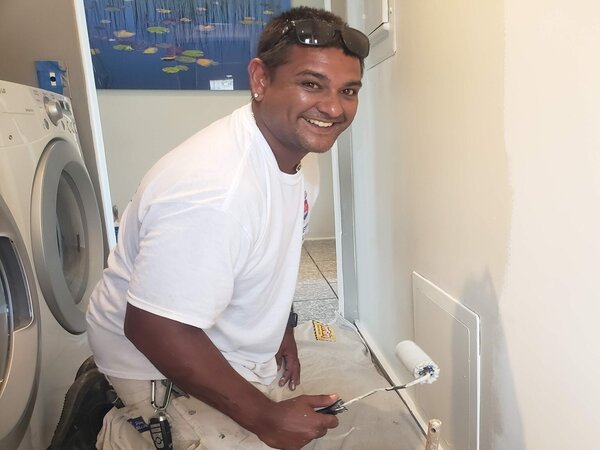 But What About…
"Do we have too many interior painting questions?" asks Jonathan.
Erin smiles, shaking her head. "No, if anything we have too few! It'd be nice to know the answers without having to try and call a painter."
Jonathan nods. "Yep, which means we need to turn to Google. I'm sure we can find the answers there," he says as he wriggles his phone out of his pocket. "We'll definitely need to look up interior painting costs."
"Maybe we can find a painting blog that has answers to a lot of our questions," suggests Erin. "We can check there too! If we find a good one we may find a painter for our home too," agrees Jonathan as he starts searching.
Here's what the couple finds out:
The Most Commonly Searched Interior Painting Questions
1. How Often Should The Interior Of A House Be Painted?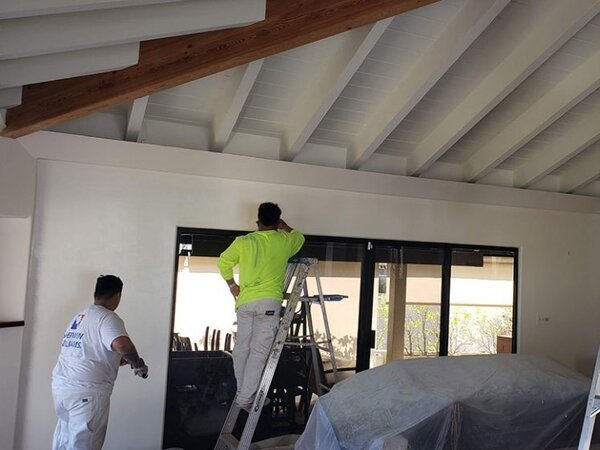 Your house interior should be painted every 4 to 7 years on average. Kitchens, bathrooms, and hallways need painting about every 2 to 4 years. Living and dining rooms need painting about every 5 to 7 years. Bedrooms need painting about every 2 to 8 years.
These dates are for when most paints start failing. You can always paint earlier to keep the colors fresher looking or change the look!
If your home needs a fresh look we'd love it if you'd talk about your project with us!
2. With Interior Painting Is It Walls Or Trim First?
It's really a personal choice when it comes to painting your interior walls or trim first. Whichever one you paint first will probably have some spill over onto the other. That's if you DIY it.
Professional painters have tricks that help minimize this and clean it up.
3. Is It Ok To Paint Inside When It's Raining?
It is ok to paint inside when it's raining. Many people open windows for ventilation, so be extremely careful if you do. Rain does cause increased humidity which can slow down drying times.
4. What Is Interior Painting?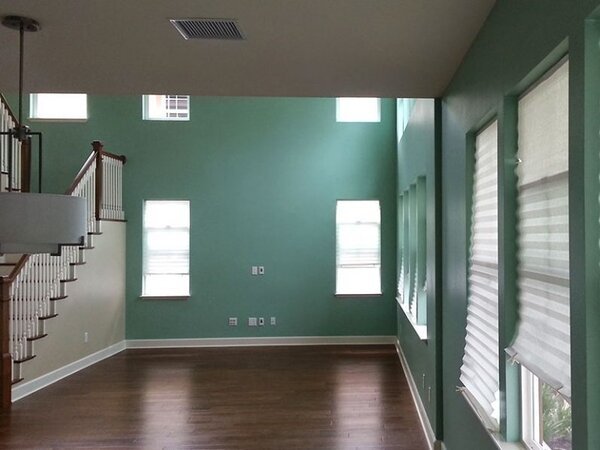 Interior painting is painting done on the insides of a building, like walls, ceilings, trim, and other areas. Interior paint does more than changing the look. Most interior paints are washable, durable, and moisture-resistant. Different ones can have different properties.
5. How Many Coats Of Paint Are Needed For Interior Walls?
When it comes to how many coats of paint are needed for interior walls, we recommend two. You can get away with one, but two coats are better. Two coats give better coloring and protection.
6. How Many Coats Of Primer Before Painting?
When it comes to how many coats of primer before painting, we recommend two. This helps the paint bond more tightly to the wall. This keeps it from peeling and cracking as quickly. You won't have to hire a painter to come into your home as soon as if you did one coat or fewer.
We find that you don't always have to prime. You don't need to prime UNLESS:
Neutralize existing colors: dark to light, light to dark/pastel colors.
New drywall
Oil-based to water-based
New wood.
Extremely chalky surfaces.
A lot of the paints we use are high-end. They have primer in them already. We still follow the necessary preparation steps so the paint sticks just as well.
Some colors, like orange, navy blues, dark reds, pastel yellows, and others can take a much higher number of coats. Otherwise, it won't look good.
7. Which Is The Best Paint For Interior Walls?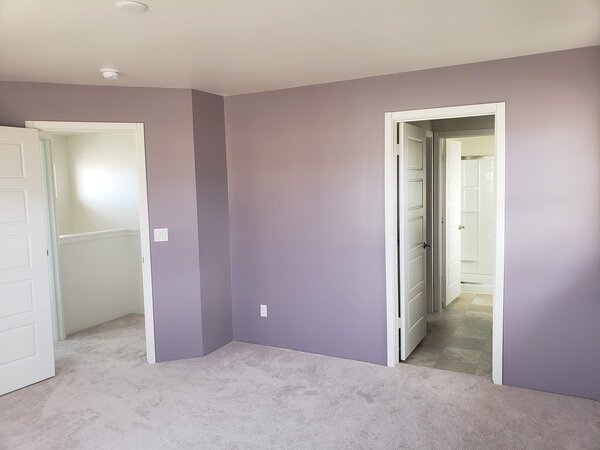 Sherwin-Williams Duration and Sherwin-Williams Duration Emerald. They're top-of-the-line paints. If you're moving gout or renting we recommend something safer like Sherwin-Williams Pro Mar 200. It's more cost-efficient but still a great paint and has great coverage.
8. Interior Painting: Spray Vs Roller?
When it comes to sprayer vs roller for interior painting, it's mostly a personal choice. Rolling is cheaper, easier, and less stressful. But, rolling can leave drips on the floor and trim. 
Spraying reaches areas like corners and covers textured areas more easily than rollers. You can also get a smoother finish. But, it's more complex, preparation is long and complex, and it's more costly.
For new construction homes, we prefer spraying and backrolling
For furniture, we prefer spraying. It varies from job to job depending on the space
We spray louvered doors (the ones with the slats). It helps us prevent painting mistakes and gives it a much nicer finish
9. What Interior Painting Tools Do Painters Use?
These are the top interior painting tools painters use:
Hand brushes and pail. Hand brushes or small rollers are great for painting wall edges before doing the whole wall. 3-and-a-half inch Purdy brushes are great for interior and exterior painting. You can use an empty paint can instead of a pail if you're a DIYer. We prefer to use 2-gallon buckets because they're big enough to fit the tools we need in them.
Roller and 5-gallon bucket (pro) or pan (DIY). 9-inch rollers are great. For larger projects, 9-inch buckets usually work better than pans because they can hold more paint.
Roller extension. Extension poles for rollers make it easier to paint walls and ceilings. You can also screw an old broom handle into the roller.
Painters plastic and drop cloths. Cover the floor area with something. This catches any spills or drips, making painting less stressful and cleanup easier. Drop cloths are best for floors and painters plastic for everything else.
Rags, tape, and a screwdriver. Rags are great for catching paint drips before they dry. Blue painter's tape can help you get lint off of new roller covers and tape off areas you don't want paint getting on. You can use a screwdriver to take faceplates off of switches and outlets.
Caulking gun and tube of caulking. This is so you can caulk more easily.
Spackle. You use this to fill in any holes or damages. Then your paint job will look better!
Spackling blade. This is to make applying spackle easier. They have different sizes for different holes.
Sanding sponge (fine-medium side). This can help prevent your walls from looking patchy after using spackle. It evens out the surface.
Ladder. 4 to 6-foot ladders are ideal for painting tall areas.
You May Also Like To Know
"Now I want to find answers to our other interior painting questions," says Jonathan. "Well, while we're here let's see if this blog can help us with that," suggests Erin. Jonathan nods and they keep looking.